If you are not equipped with a printer, send this photo to a 3 1/2 " floppy disk. Take the disk to a chain store that has a Kodak Picture Maker and you can have a high quality print made. WHITETAIL DESIGNER SYSTEMS, INC. gives permission to print this photo for individual reference use.

We will replace photos on an irregular basis. Add these to your Whitetail Designer Systems disk collection to build an awesome taxidermy reference photo collection.





The Weathered Stump

Original clay sculpture

      by Glen Conley

  An ideal wild turkey

        mount base!

  The Weathered Stump

   is now being made at

    $39.95 ready to finish

Toll Free: 1-888-527-8722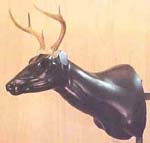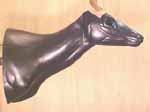 Watch the developement of taxidermy forms by Glen Conley.

I've said it before, and I'll say it again, taxidermy IS a three dimensional art form.

Just like any art form, whether it be a drawing, a painting, a carving, a sculpture, or a photograph, taxidermy is going to "freeze" that image in time.  It is darn hard to capture a believable image without GOOD reference.

In spite of having pages of measurement notes, cleaned skulls, frozen heads, photos of skinned out heads, necks and shoulders, accumulated templates made from deer parts over time, and access to live deer, I still would not have been able to pull off the live deer look of the
REAL DEER FORMS
whitetail taxidermy forms without my line of live deer reference photos.  No how. No way.
                                                                              Glen Conley