TAXIDERMY REFERENCE PHOTOS

PURCHASING SOURCES and CHOICE SELECTION PAGE

We have new series of taxidermy reference photos constantly in the works.  We have just introduced a new whitetail deer picture assortment. This will be a lot of photos of the "hard to find" nature of both bucks and does in spring to fall condition.  It is identified as the Master Series.

Taxidermy reference photos taken specifically for taxidermy applications! Detailed whitetail deer photos, fox squirrel, raccoon, waterfowl, and more!

          1-800-826-0654

        315 W. Sherman

   Lebanon, Oregon 97355

Oregon and Illinois locations

Wildlife Artist Supply Company

              1-800-334-8012

      1306 West Spring Street

       Monroe, Georgia 30655

QUALITY TAXIDERMY SUPPLY                1-888-527-8722

         2186 Southwood Rd.

Kinston, North Carolina 28501

WHITETAIL DESIGNER SYSTEMS 1-866-849-9198 or 1-877-861-5679

               512 N.W. 4 th. st.

       Richmond, Indiana 47374

Animated Samples
will give you an entertaining view of some of the contents of the taxidermy reference disks.  Clicking on INDEX REFERENCE PHOTOS, when done, will bring you back here.
Click on choice of subjects below to view thumb nail samples of our taxidermy reference photos, price list, and ordering information.


The Weathered Stump

Original clay sculpture

      by Glen Conley

  An ideal wild turkey

        mount base!

  The Weathered Stump

   is now being made at

    $39.95 ready to finish

Toll Free: 1-888-527-8722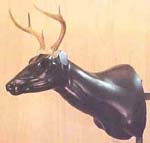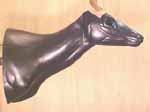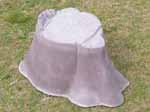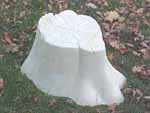 These high quality taxidermy reference photos are available from the taxidermy suppliers below.  Order by phone using the toll free phone numbers, or purchase on-line from high-lighted suppliers' links!

In spite of having pages of measurement notes, cleaned skulls, frozen heads, photos of skinned out heads, necks and shoulders, accumulated templates made from deer parts over time, and access to live deer, I still would not have been able to pull off the live deer look of the
REAL DEER FORMS
without my line of live deer reference photos.  No how. No way.
                                                                              Glen Conley