Problems with pre-orbitals?   Clay shrinking?   Skin pulling out? This is Cary Cochran's answer to the problem, and it works!

Prepare the shape of the pre-orbital with a two-part sculpting epoxy.   Allow it to harden.   Make as thin a slot as possible.   The angle should not follow the natural angle of the pre-orbital, nor should it be at a right angle to the head, but an angle in between.

Taper the slot out at the top, and out at the bottom.

Work some Buckeye Supreme Hide Paste into the slot prior to tucking.

Tuck the pre-orbital skin into the slot, bringing the hair patterns together at the top and bottom.   Pulling up a little slack skin around the pre-orbital area helps avoid pull-out.

Big, old whitetails, mule deer and elk may need to have some of the excess pre-orbital skin trimmed off in order to use this technique. 

Setting Glass Eyes and Shaping the Pre-orbital (lacrimal gland)

                   WHITETAIL DESIGNER SYSTEMS, INC.

taxidermy reference photos and tanning supplies for the taxidermy trade.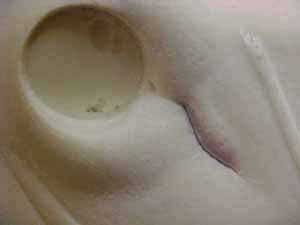 If you like the cant and angle of your mannikin's eye sockets, use this technique to preserve. Tohickon's Joe Meder Glass Eye was used for this demonstration.

Bore a ½" hole in the center of the socket.   Under cut the foam to form a funnel shape.   With the big end of the funnel toward the foam brain.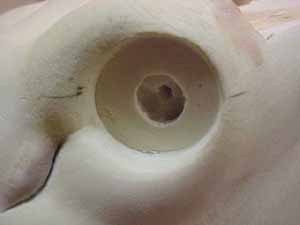 Use a 2-part epoxy and slightly over fill the hole.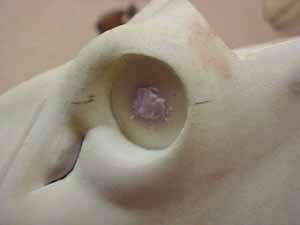 Fill the backside of the glass eye even with the epoxy, and then scoop out enough epoxy for the expansion from compression.   Press into place.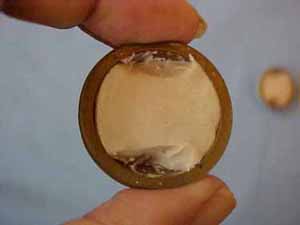 Shim or tape the eye in the desired position until the epoxy kicks.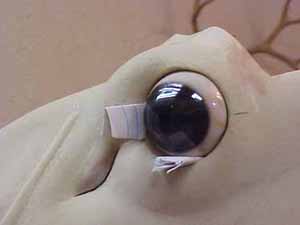 © WHITETAIL DESIGNER SYSTEMS, INC. TM 2001

To Order:  Telephone Toll Free in U.S.A.  1-866-849-9198

Whitetail deer eye reference photos are available from WHITETAIL DESIGNER SYSTEMS and their distributors!

The whitetail deer eye antimateds below were created with photos from the following reference series:     Winter Buck Eyes (7), Winter Doe Eyes (8), High Detail Short Haired Whitetail Buck Eye Studies (31).