Apply by rubbing a thin, even coat over flesh side of entire hide. Massage well into nose, lips, eyelids, and ear skin.

Five (5) to six (6) ounces is all that is needed for an average size deer cape. This is definitely not a case of more is better. Keep usage amounts down to what is prescribed.

For mammals other than whitetails, you will use a lesser amount of CAM-L-C proportionately. To do this, spread thinner before rubbing in.

Leave flesh side of cape exposed to air for at least one (1) to two (2) hours, then invert to hair-side out.

The hair will now act as a wick, drawing and evaporating water, which in turn is carrying compounds, but the wick effect will not override the gravity effect, which in turn is making water run downhill, carrying compounds.

To benefit from these laws of physics, simply hang the hide horizontally, turning as needed to keep wet areas up, or lay the hide out flat on a workbench or tabletop and periodically turn the wet side up. This will give you a good even distribution of compounds.

(Tumbling can be substituted for air exposure evaporation after the two-hour reaction time.)

When the hair has a uniform damp look, tuck the head parts in and roll up the cape in such a manner that the thicker shoulder and back hide portions are the exposed portions when rolled. Place in a plastic bag for freezing and then freeze, or for "immediate" mounting, place in an old flannel shirt, long john top or two or three old t-shirts. Use a tightly woven cotton material for sweating. New material is inexpensive at yard goods departments. Be sure to wash and dry new material so as not to discolor hide or hair if colored goods are purchased. Sweat in cotton for at least twelve (12) hours. Cape can be considered ready for mounting when a needle can be passed through the hide relatively easily-in other words-when it is an easy to sew hide.

To achieve optimal results: freeze solid and thaw in cotton sweat. Three (3) days in the freezer improves the cape greatly. Three (3) weeks or more yields dramatic results.

WHITETAIL DEER TAXIDERMY MOUNT



WHITETAIL DESIGNER SYSTEMS, INC.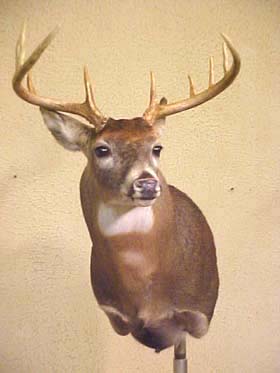 Taxidermy tanning supplies developed by Glen Conley

                   CAM-L-C

Leather Finisher and Conditioner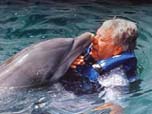 The entire line of WHITETAIL DESIGNER SYSTEMS products can be purchased direct by calling our sales rep, Franz Heepe.

  WHITETAIL DESIGNER SYSTEMS               TANNING SUPPLIES

TAXIDERMY REFERENCE PHOTOS

                    STOP-ROT

                 CALL FRANZ

       TOLL FREE 1-877-861-5679

This whitetail deer shoulder mount was done on an altered mannikin done by Glen Conley, product developer for WHITETAIL DESIGNER SYSTEMS, INC. You probably already have it figured out as to what tanning products were used on this mount!

"Winter Buck General Reference Assortment"  stk. # WTDS  pr 13

The entire tanning system line can also be purchased through RESEARCH MANNIKINS, either the Oregon or Illinois facility, by calling 1-800-826-0654.

RESEARCH MANNIKINS also offers on-line purchasing of all WHITETAIL DESIGNER SYSTEMS PRODUCTS for your convenience.
STOP-ROT is available from these taxidermy supply

distributors:  Order on-line from high lighted suppliers!

Wildlife Artist Supply Company WASCO 1-800-334-8012
Quality Taxidermy Supply 1-888-527-8722

WHITETAIL DESIGNER SYSTEMS 1-877-861-5679

    © WHITETAIL DESIGNER SYSTEMS, INC. TM 2001

                          Richmond, Indiana 47374

To Order:  Telephone Toll Free in U.S.A.  1-877-861-5679

  Questions?  Need assistance?  Phone 1-765-966-4651