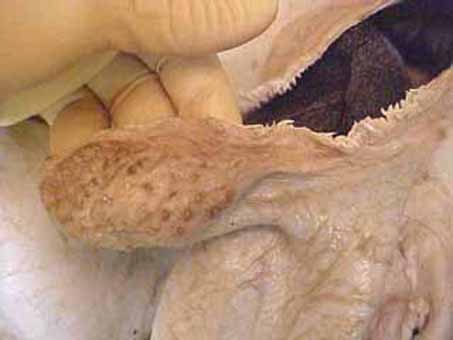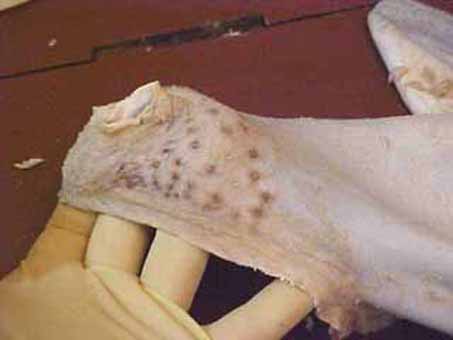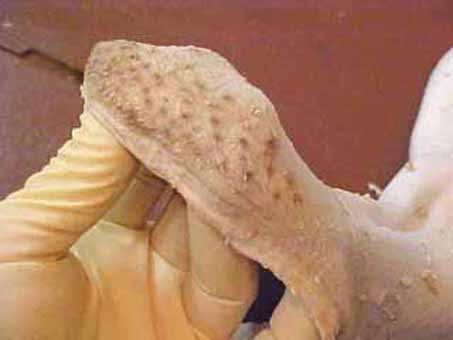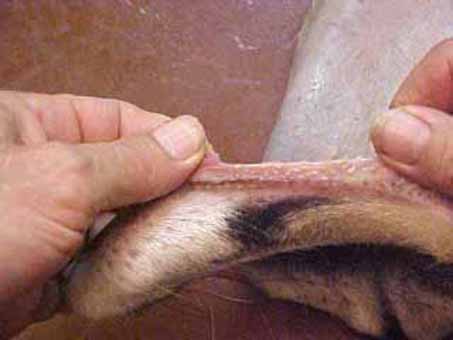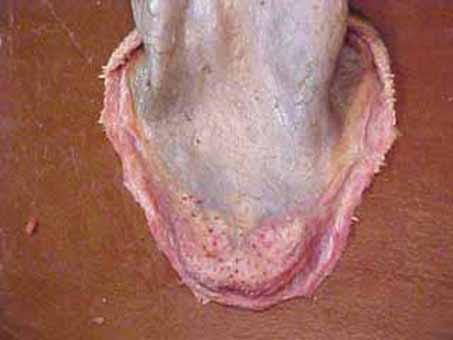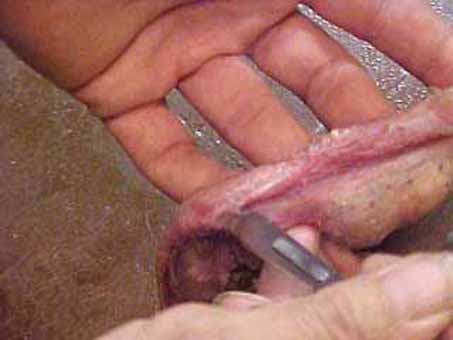 This chin/bottom lip photo shows 2 days in the pickle, and ready to be shaved off. This area, and the muzzle seems to be the areas that give most a hard time. The meat is going to pickle, and it will mount up, BUT it will shrink and dry and pucker and other undesireables, so just shave everything off down to the skin as you see in the following photo.  What ever works for you to get it off is fair.

What you are seeing is a cape that was pickled in dirty livestock salt.  All the dirty streaks shave right off, and it doesn't seem to affect the final product what so ever.

Split and Open Lips, and Detail Fleshing of Lips and Muzzle                            for Tanning and Taxidermy

The first photo shows the bottom lip after it has already been split down to the fold of the lip.  There are a myriad of small muscles in the lips, and you just start more or less in the middle of the fold and slice down through until you come to the crease that will be created when these are cut loose.

After you have created the crease, the lips will tend to lay more in an open position.  Now you can continue removing the remaining muscle.  Keep taking the meat off until you come to the skin.

Trim off the excess lip, but leave enough to tuck into the lip slot of the mannikin.  You should wind up with something that looks about like this.

The pickle will have firmed up the flesh considerably.  That makes it easier to see the difference between the muscle and skin.

All the brown dots are the backside of  whisker follicles. You don't want to cut the bumps off or the whiskers fall out.  Use a small scapel blade, curved manicure scissors, or my personal preference for detail work, the little 5" Fiskars Micro-Tip sewing scissors.

The upper lip skin and muzzle are treated in the same fashion.

More detail fleshing information.

                                  WHITETAIL DESIGNER SYSTEMS, INC.

Has made another expansion! WEB SITE SERVICES for taxidermists are now available!

WHITETAIL DESIGNER SYSTEMS offers our multi-step tanning system in kit form for the beginner or hobbyist that needs smaller quantities.

Kits are available through WHITETAIL DESIGNER SYSTEMS only and can be charged by phone.  Toll free  1-877-861-5679.

HOBBY KIT

$29.95 plus UPS shipping

DELUXE HOBBY KIT

Contains 1 pint
STOP-ROT
, 1 pint TAXIDERMIST'S LEATHERIZING ACID, 1 pint FAT·B·GONE, SHRINK-TONIC,1 pint CAM-L-C, pH papers and Instruction Guide. Enough for 3 average size whitetail capes or several small mammals!
$39.95 plus UPS shipping